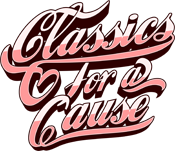 enter now to win a classics for a cause merch pack (valued at $200) & 1 free month of vip access
Just drop your email in below and we'll enter you in our monthly draw to WIN a Classic's Merch Pack and your first month of VIP membership FREE!
DON'T MISS OUR ON YOUR
CHANCE TO WIN! ENTER NOW!
JOIN THE CLUB & GAIN ACCESS
Be Rewarded for your Support
The VIP Loyalty Reward Club rewards you more and more each month
Never miss out on a giveaway again and be rewarded for your support by joining the VIP Loyalty Club. The VIP Loyalty Rewards Club provides members with monthly entries into every active giveaway we are running. Never again will you have to make the hard choice of which car to enter into the draw for. As a VIP Loyalty Rewards Club member, you will gain entry into all active giveaways each month!
But it gets even better…
You will gain an additional entry into every draw for every month you remain a member of the VIP Loyalty Rewards Club. Stay a member for 2 months, and gain 2 additional entries for all of the current giveaways; stay a member for 6 months, and you will gain 6 additional entries for all the actives giveaways, in that month, for a fixed monthly fee.
The VIP Loyalty Rewards Club also provides access to discounts from over 200 automotive retailers and services. There is no lock-in contract, and you can cancel anytime.
GET EARLY ACCESS TO UPCOMING GIVEAWAYS
Get the opportunity to obtain additional packages for upcoming giveaways, before it is available to the public.

Access to
200 automotive
discounts

Save on all your automotive needs with access to discounts from over 200 retailers and services across the country.

Get 10% Off Packages
For All Giveaways
VIP Members get 10% off the price of packages for all giveaways. This discount is automatically applied when
logged in. This great discount lets you get more packages for less, extending your access to the discount platform
and increasing your odds in giveaways.
CHECK OUT OUR LATEST DRAW
ON FACEBOOK!